A fresh crisis may be the beginning of the end for Bitcoin exchange Mt. Gox, but the harm to the digital currency itself will be temporary.
Fans of the digital currency woke up Friday trying to figure out why Bitcoin prices are falling after more than a month of relative price stability on the Japan-based exchange.
Long plagued by issues in getting fiat currencies from Mt. Gox accounts to user bank accounts, the exchange in recent days started having trouble transferring bitcoins as well.
To make it easier to pinpoint the problem, Mt. Gox announced it was suspending all bitcoin transfers indefinitely.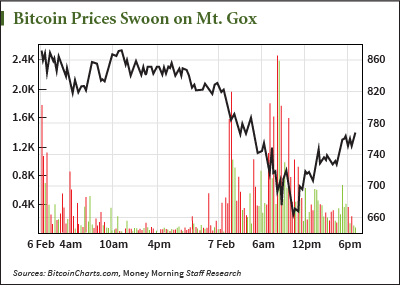 "In order for our team to resolve the withdrawal issue it is necessary to temporarily pause all withdrawal traffic to obtain a clear technical view of the current processes," the Mt. Gox memo said. The site promised an update on the situation Feb. 10 (Monday).
Bitcoin traders reacted predictably be selling heavily not just on Mt. Gox, but on all the other major exchanges, including BitStamp and BTC-e.
On Mt. Gox, where Bitcoin prices had been about $100 higher than on other exchanges, the plunge was the steepest. Bitcoin prices fell from about $830 to $652 in a 10-hour span early Friday.
Bitcoin prices on other exchanges followed suit.
But it didn't take long for bargain hunters to jump in, and prices were back into the mid $700s by Friday afternoon.
While critics spent much of the day declaring (for the umpteenth time) the death of Bitcoin, they're wrong again.
Here's why.
Why Falling Bitcoin Prices Don't Mean Doom
Anyone who has followed the Bitcoin story over the past year knows it has had more than its share of existential crises.
There was the crash in April of last year, when prices rocketed to $266, then plunged to $55. There was the shuttering in October of Silk Road, a website where visitors could buy illicit drugs using Bitcoin. And there was the decision by the Chinese government in December to block transfers of yuan into the busy BTC China exchange.
Each time self-assured critics explained why Bitcoin prices are falling – the whole thing is a bubble and now it's popped. It's over and good riddance.
But each time Bitcoin prices have recovered. More than that, however, is that acceptance of and investment in the digital currency has continued to accelerate. You can spend Bitcoin in more places every day, Bitcoin-based business keep sprouting up.
Bitcoin refuses to die because it's not a bubble or a fad. Bitcoin is something new – both a currency and a form of payment – the potential of which is only starting to be tapped.
Mt. Gox, on the other hand, should be very, very worried.
It's Time to Start Looking for Another Bitcoin Exchange
Just a year ago, Mt. Gox was the biggest Bitcoin exchange in the world by far, with 80% of trades going through its exchange. It became the premier Bitcoin exchange almost by accident, having started as a site to trade playing cards for the online game Magic: the Gathering.
When Bitcoin started to gain steam, Mt. Gox suddenly grew in popularity. It could have been a booming business, but its owners have repeatedly fumbled.
Last May the U.S. government told payment processor Dwolla that it could no longer do business with Mt. Gox because regulators determined neither was registered as a money transmitter.
That was a huge problem, as it has made it virtually impossible to get U.S. dollars into or out of the exchange.
Meanwhile, users in other countries frequently complained that it took weeks to transfer amounts of their native currency out of Mt. Gox.
The inability to resolve problems in a timely manner began to drive users away. Mt. Gox now accounts for only 25% of all Bitcoin trades.
For many, the suspension of Bitcoin transfers will be the last straw. From here, it's almost a certainty that Mt. Gox will continue to decline into irrelevance (though it probably won't disappear altogether).
People who want to buy or sell Bitcoin do have some options, such as BitStamp, although that Bitcoin exchange is located in Slovenia, a fact not exactly comforting to wary U.S. customers.
But in true Bitcoin fashion, the demise of Mt. Gox could prove a positive.
"Mt. Gox has been losing market share quickly over the last few years," millionaire and Bitcoin evangelist Roger Ver told Business Insider. "I think this latest glitch will hasten that decline, but for the betterment of the entire Bitcoin ecosystem."
Given that every current Bitcoin exchange has its drawbacks, the door is now open for some intrepid businessman – perhaps in the United States – to fill the breach.
The Mt. Gox struggles show "a clear need for a U.S.-based, regulated, compliant and trustworthy Bitcoin exchange," Barry Silbert, Chief Executive Officer of SecondMarket, Inc, which operates a Bitcoin hedge fund, told Bloomberg News. "This could be the first step in that direction."
Do you think a U.S.-based #Bitcoin exchange is a good idea? Would you use it? Make yourself heard on Twitter @moneymorning or Facebook.
You don't need to be a Bitcoin user to be a Bitcoin investor. When the Winklevoss Bitcoin ETF launches later this year, investing in Bitcoin will be as simple and straightforward as buying shares of stock. Here's why a Bitcoin ETF would be a Game-Changer…
Related Links:
Comments
comments