Note: This article is available in both written and video format. The video above summarizes key details from the article and adds some color. The article below is more detailed and succinct.
If you followed Bitcoin (COIN) and cryptocurrencies this weekend, you saw two major corrections that might have suggested the bubble was popping. However, there has been significant buying support at and above $4,000. At the time of writing this, price is sitting around the $4,150 area. Let's discuss the two reasons behind the dive in price and how it may paint the landscape moving forward for cryptocurrency investors.
The First Correction – Bitcoin Leads the Way Down
On Friday night, Bitcoin found its way flirting with $5,000, even breaking it for a short period of time on Coindesk's price index and some of the major exchanges. Swiftly afterward, the cryptocurrency took a sharp reversal that saw price rapidly pullback to $4,900, then $4,800, and so on to lows of around $4,550. I watched this live (late at night I might add – the major volume came in around 1 am Wall Street Time), and while the initial fall felt like a knife through butter, the latter portion of the fall was akin to bouncing on a trampoline as sellers struggled to out-power buyers: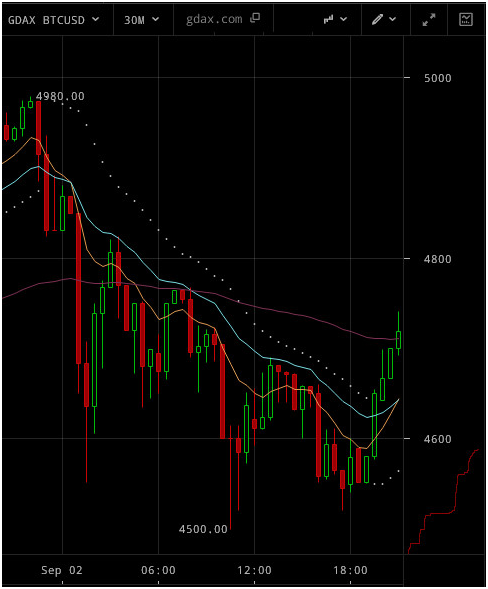 Source: Cryptowat.ch and GDAX
What this illustrates to me is that while there is a psychological barrier at $5,000, we are still in an environment where any pullbacks are rapidly eaten up by investors. What this yields is a chart with higher peaks and higher valleys, characteristics that define an upward trend. More importantly than this rather technical conclusion, however, is that there are many investors with dry powder (cash) waiting on the sidelines for any correction to initiate better entries. This latter point is important to be mindful of as it could have alleviated any emotions felt during the second correction which we'll be discussing shortly.
However, the most important part to take away from this first pullback is the reversion to mean on correlations between the major cryptocurrencies. One of the narratives throughout August was the shift of wealth from altcoins (term given to any non-Bitcoin cryptocurrency) to Bitcoin as it rallied upward above $4,000. This narrative was so strong that it even found itself on the front page of the "Business & Finance" section of the Wall Street Journal on August 14th, where the WSJ stated:
Later Saturday, coin-offering tokens and digital currencies across the board started falling, and it appeared that the liquidated capital was flowing directly into bitcoin.
– WSJ on Monday, August 14th
What we saw in the first half of August illustrates how cryptocurrencies don't always flow together. In order to better illustrate this point, I created multiple peer correlation matrices among the major cryptocurrencies in Excel for different time frames: One with August's daily returns and the other without:
Without August Daily Returns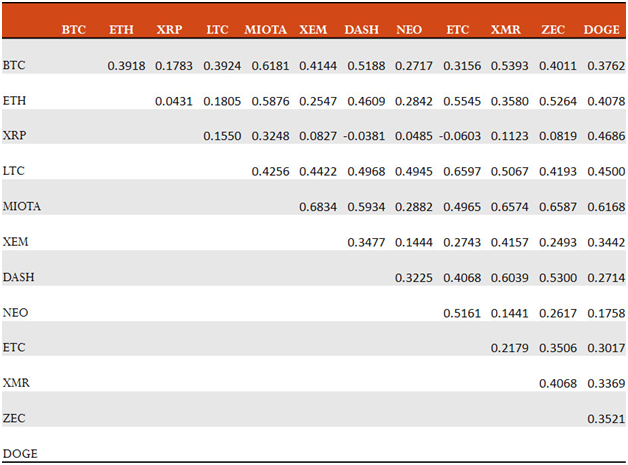 With August Daily Returns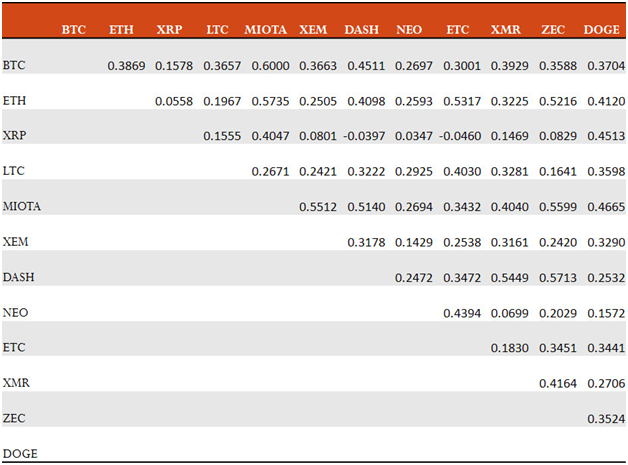 Note: These daily returns go back to April 1st as this was when the cryptocurrency scene started to blast off and correlations between major cryptocurrencies increased drastically from their longer-term weekly return correlations.
In order to save you the time of having to compare the two, I've created a matrix that is the difference between the two: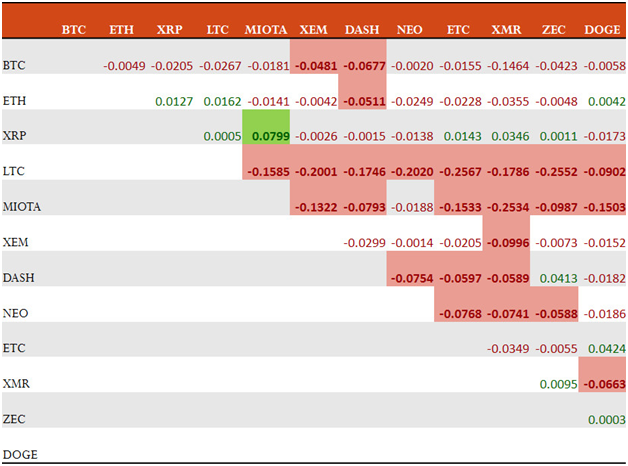 I've highlighted any cells that show a greater than 0.05 change in the correlation ratio between two cryptocurrencies. Note that almost across the board, the correlations between cryptocurrencies decreased in the month of August due to shifts in funding toward Bitcoin, supporting the narrative discussed throughout the month. Now we are seeing a reversal in that trend. Take a look at some of the graphs below:
Bitcoin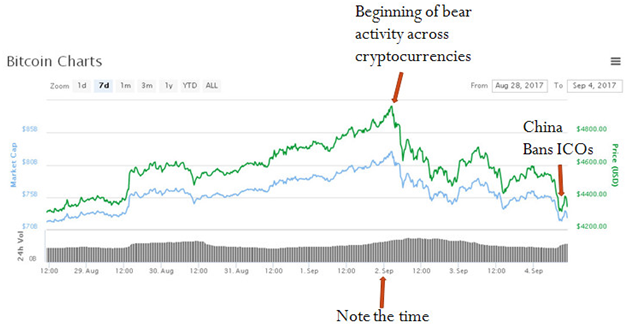 Ethereum:

Litecoin:

Source: CoinMarketCap.com
And so on, so forth for the remainder of the major cryptocurrencies. The takeaway here? Correlation between cryptocurrencies is strengthening from what we saw in August, meaning that even if you generally invest in altcoins, you must continue to pay attention to Bitcoin. This is akin to paying attention to the behavior of the S&P 500 even if you only hold small caps. While altcoins (small caps in this analogy) are more likely to be impacted by specific, non-diversifiable events, they are still influenced by what is happening with Bitcoin. Likewise, Bitcoin might become increasingly impacted by changes in the altcoin scene as is evident in the second correction we saw early Monday.
The Second Correction – China bans ICOs, hitting the entire cryptocurrency market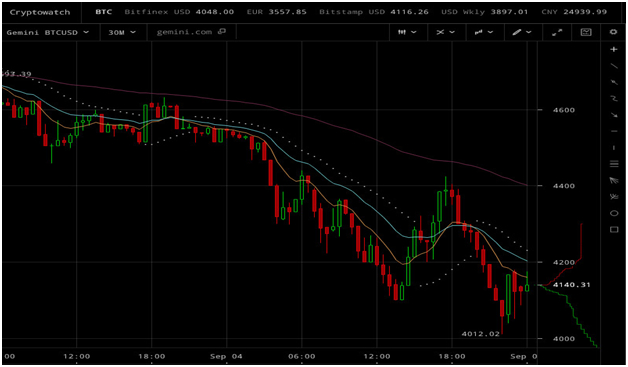 Source: CryptoWat.ch
Looking at the charts above, you likely saw the impact of the announcement China recently made related to initial coin offerings (ICOs). For those of you unfamiliar with what an ICO is, it is similar to an IPO except for cryptocurrencies with a few key differences. The goal of an ICO, similar to an IPO, is to raise capital for founders of a cryptocurrency / token. The capital is intended to give developers the resources necessary to follow a roadmap set forth for the token or currency they are building.
Unfortunately, we are still in the Wild West with ICOs and many developer teams are not qualified or don't have a full grasp on what to do with the funding. Or more nefarious than that, there have been several instances of scams and a variety of other greedy schemes in which developers, and even venture capitalists (VCs) to an extent, take advantage of the rush of capital coming to the scene from relatively inexperienced investors. Then there is also the simple fact that without significant adoption, many of these cryptocurrencies and tokens are doomed to mediocrity regardless of the team and funding.
All of this sets the backdrop for why China chose to ban ICOs. During their research of ICOs, they found that "over 90% of ICO projects could be violating illegal fundraising or fund fraud laws. The percent of project[s] that [are] actually raising funds for investments is less than 1%." Less than 1% is a sad sight to see. Regulators tend to overreact, but in this particular scenario, I don't believe they are too far off. Take a look at this account from someone who was involved in the scene.
Bitcoin and the other majors were hit by this fairly hard, with Bitcoin in particular dropping to around $4,000 at one point. However, it is important to note that while a slowdown in the ICO market may not be healthy for the overall cryptocurrency scene (think "a rising tide raises all boats"), Bitcoin is the furthest diversified from this risk. Imagine if we saw a crackdown on IPOs or penny stocks by the SEC. Would the S&P 500 be affected? Perhaps if it saw a broader slowdown in private equity which caused ripples throughout the economy, but generally speaking the S&P 500 would continue on its way without too much concern. The same is true here.
However, it does pose a risk to Ethereum which I will likely discuss in either another article or video. In short, Ethereum is the de facto leading platform for launching ICOs, and while China may have impacted NEO significantly more than Ethereum, it is important to note that any regulatory actions against ICOs are a threat to Ethereum. In particular, one must wonder if the SEC may use this event as a means to justify further action as well, especially when you consider that the SEC put the industry on notice last month with their notes on The DAO incident.
Conclusion
Bitcoin can and will be impacted by the ebbs and flows of capital into the nascent, yet booming ICO economy. However, it is the best cryptocurrency to hedge against these risks as Bitcoin is not directly impacted by ICO funding and is the least likely to be hit by regulators due to their familiarity with it as opposed to other, smaller cryptocurrencies.
As such, for one looking to build a cryptfolio (a portmanteau of "crypto" + "portfolio"), it stands to reason that Bitcoin remains the cornerstone for the long-term. I still like Ethereum in the short-term due to the upcoming Metropolis updates, but we may be seeing some long-term risks associated with it if this is just the beginning of a crackdown on ICOs. In addition, the increased correlation between cryptocurrencies means paying attention to the correlation between specific pairs is more important than ever when building a cryptfolio, another topic I might discuss in further detail in a future article. Of all the risks cryptocurrencies face, the largest is likely regulatory risk so it is crucial to keep an eye on developments across the world. For now, Bitcoin continues to find significant buyer support, suggesting that these corrections are dips and not the popping of any bubbles quite yet.
If you found this analysis useful, consider following by clicking on the follow button at the top/bottom of the article or on my profile page. Also, consider subscribing to my YouTube channel where I post frequent content on investing in cryptocurrencies. This will help you stay notified when I publish new analysis and it goes a long way in helping me know you like my work. I look forward to your thoughts in the comments. Thank you for reading.
Disclosure: I/we have no positions in any stocks mentioned, and no plans to initiate any positions within the next 72 hours.
I wrote this article myself, and it expresses my own opinions. I am not receiving compensation for it. I have no business relationship with any company whose stock is mentioned in this article.
Comments
comments